As consumers, we have various paths to conversion and changing behaviors with respect to the advertisements we face, whether on line or offline.
In any one day, there are multiple ways to interact with an advertisement:
Via outdoor advertising
By watching news on your Facebook account on your smartphone
After a search query on the Internet
While checking e-mail
While listening to your favorite's playlist on an online platform
While surfing the Internet
Or watching TV
This list is far from complete and it show the various ways for a brand to get in touch with consumers.
Consumers interact across channels, and possibly across all channels. They use various channels as their thinking advances towards a purchase, and they can interact with various media at the same time. To understand the complexities of conversion paths, it is necessary to take into account he characteristics of each and every consumer:
Does the consumer know my brand? Whether he does or not will influence his actions and hence will vary his consumption of media. Has he registered with my newsletter? Does he follow my brand on social networks?
And, if he knows my brand, has he already purchased my products or services? Again, this may change his behavior. As a result, there are as many conversion paths as there are consumers. That is: lots!!
This being said, do all touchpoints between my brand and the consumer have the same impact on the ultimate conversion, i.e. the purchase?
The answer is of course no, although all touchpoints contributed.
Depending on the type of conversion path and its touchpoints, it is possible to calculate the contribution of each touchpoint between a brand and a consumer in the final purchase decision.
How can we figure out the real contribution of a specific touchpoint?
In both conversion paths below, there is a newsletter touchpoint. Yet, the structures of the paths are different. One newsletter is in the middle of the conversion path, located close to other touchpoints that precede and follow it. The other newsletter touchpoint stands at the onset of the conversion path and it takes 6 days for another touchpoint to follow. The newsletter touchpoint did not contribute in the same way to the purchase decision in those two conversion paths. Besides, the two paths have different duration as the consumer in the second path took longer to convert.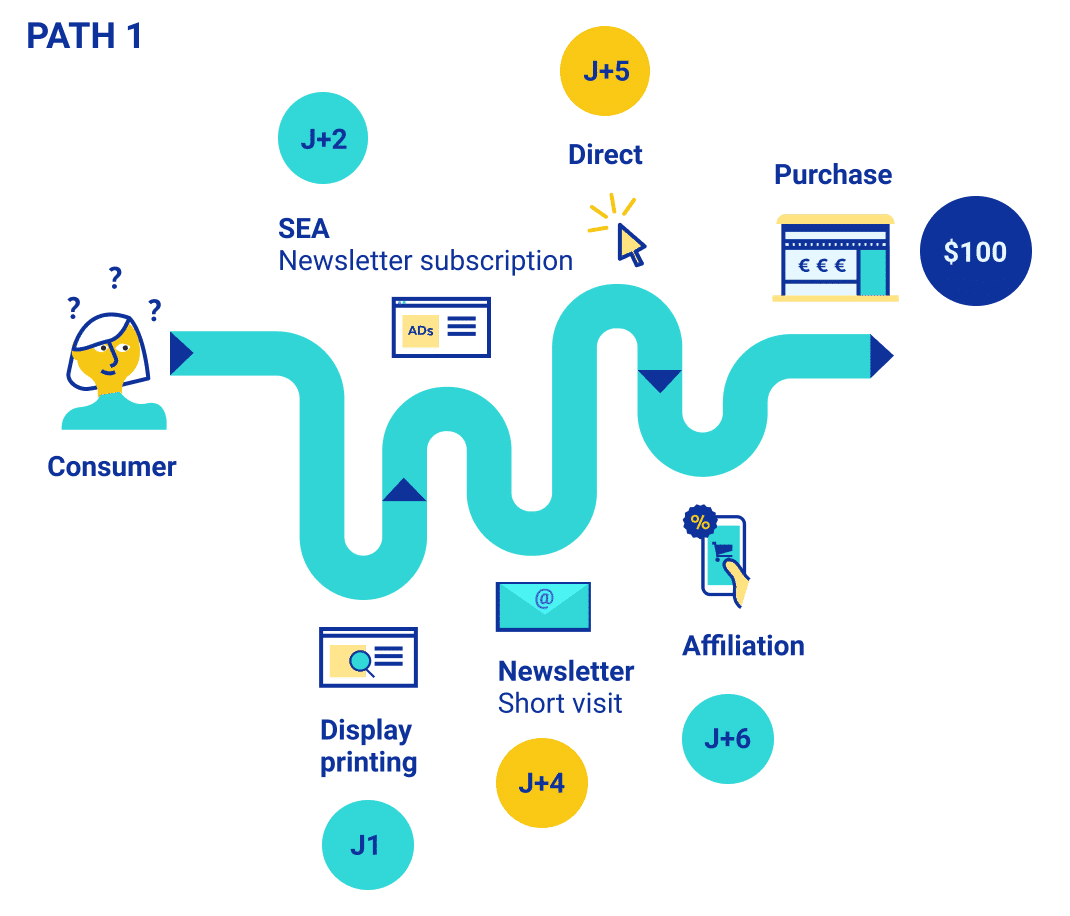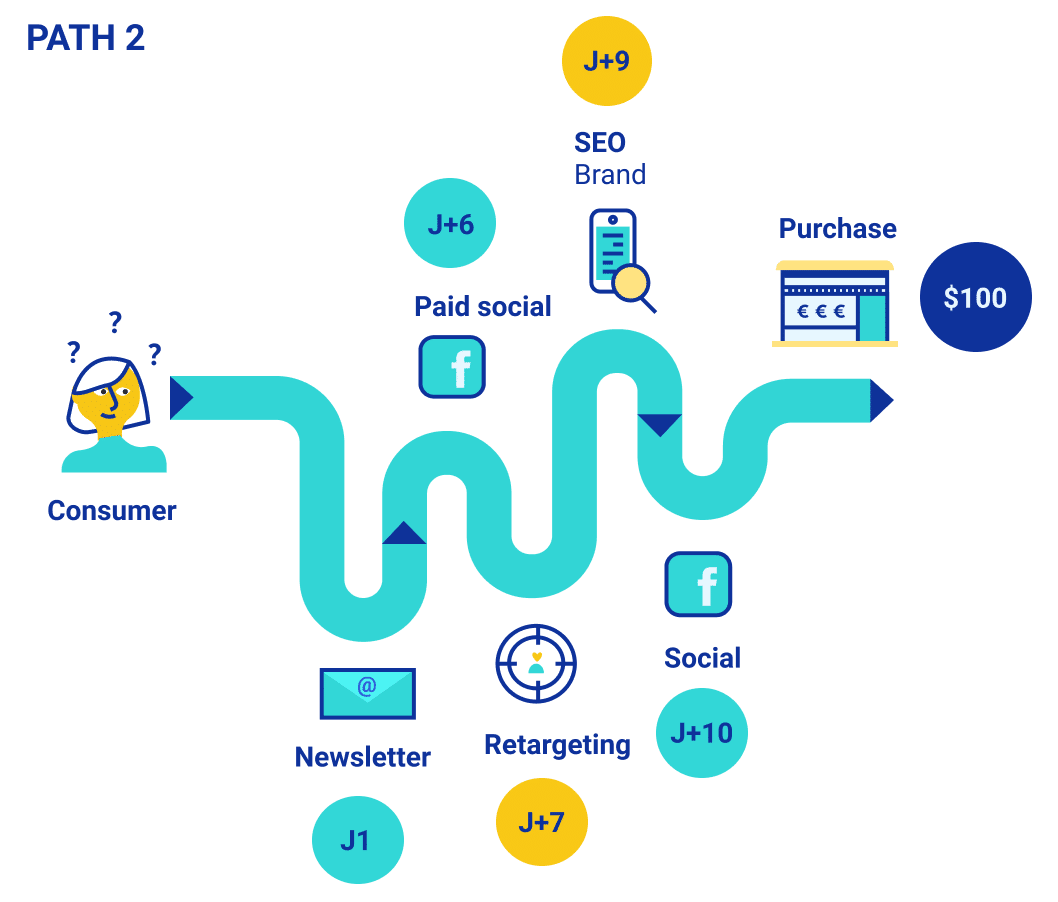 As a result, how can we figure out the real contribution of the newsletter touchpoint in the purchase decision in those two paths? This is where attribution comes in!
Using different attribution models, let's see what the newsletter touchpoint's contribution would be in the final purchase decision:
Last click model: US$ 0 for paths 1 and 2, despite having a hand in the conversion.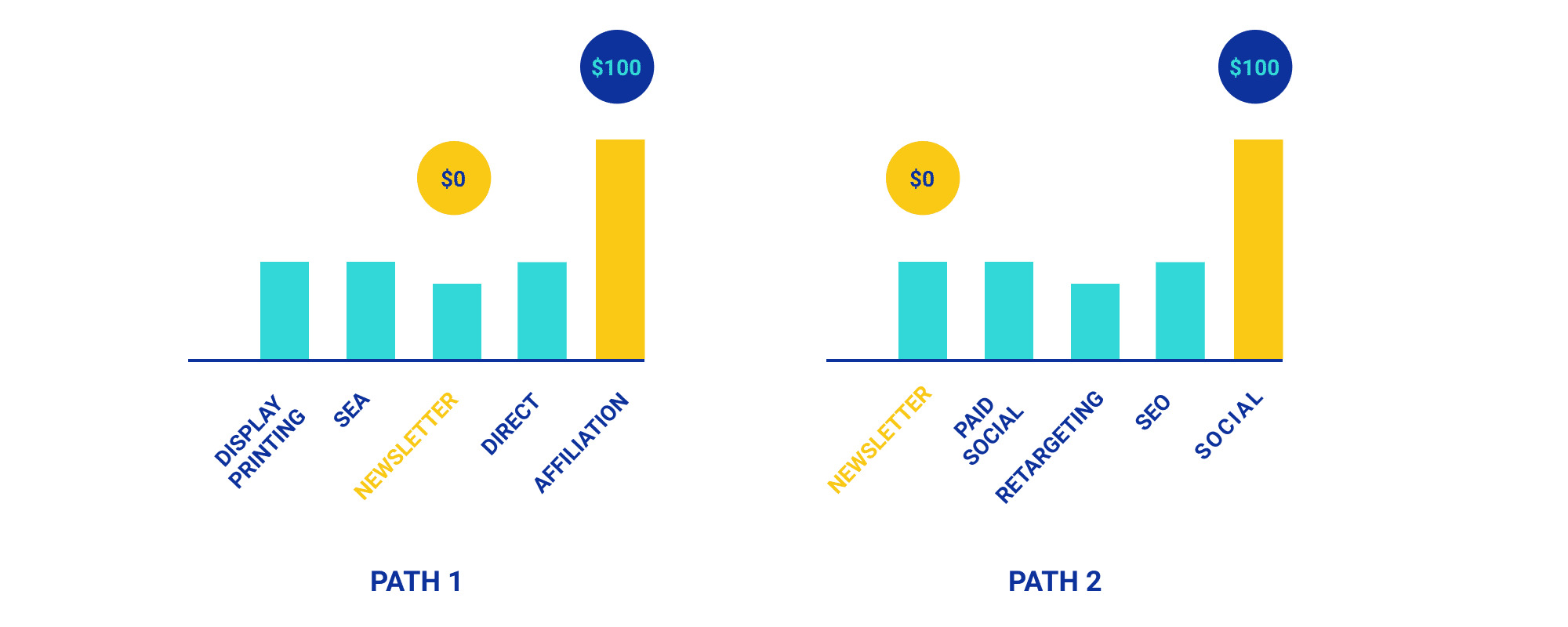 First click model: US$ 100 for the first path, and US$0 for the second path.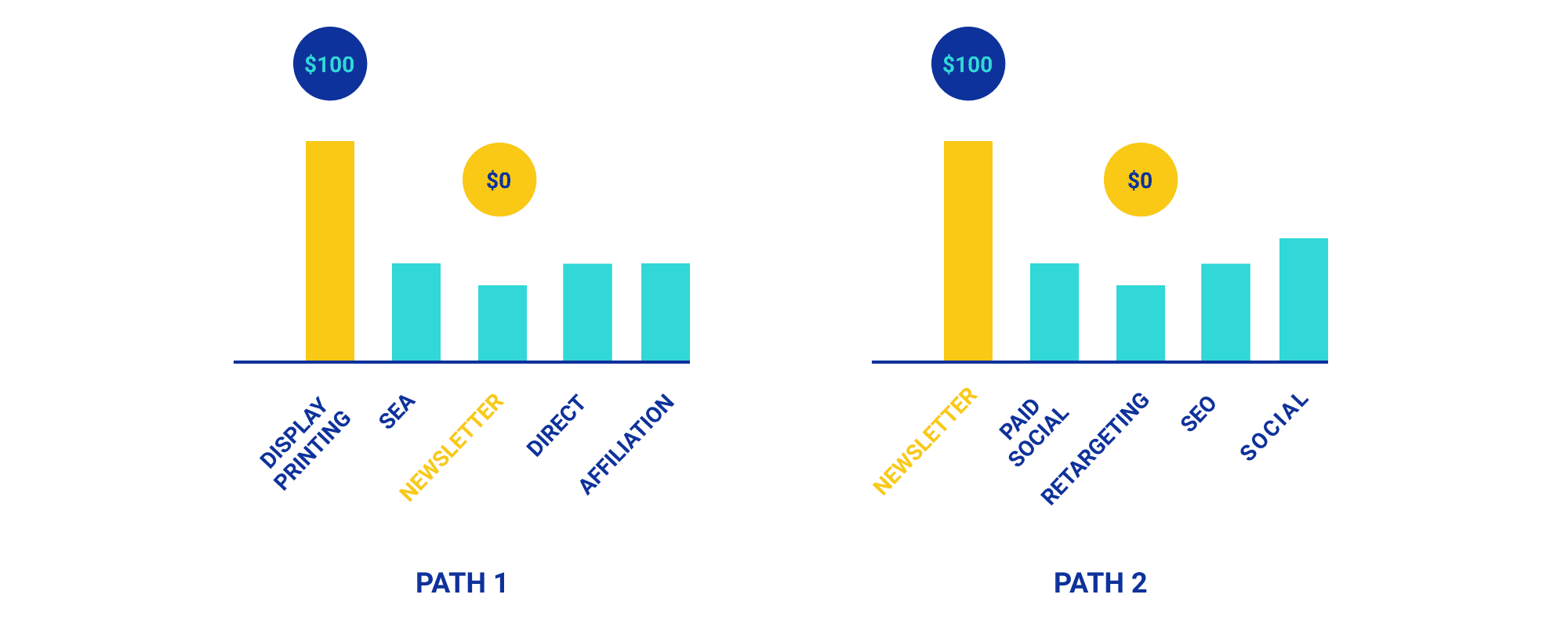 Linear model: US$20 for both paths, but did they really equally contribute?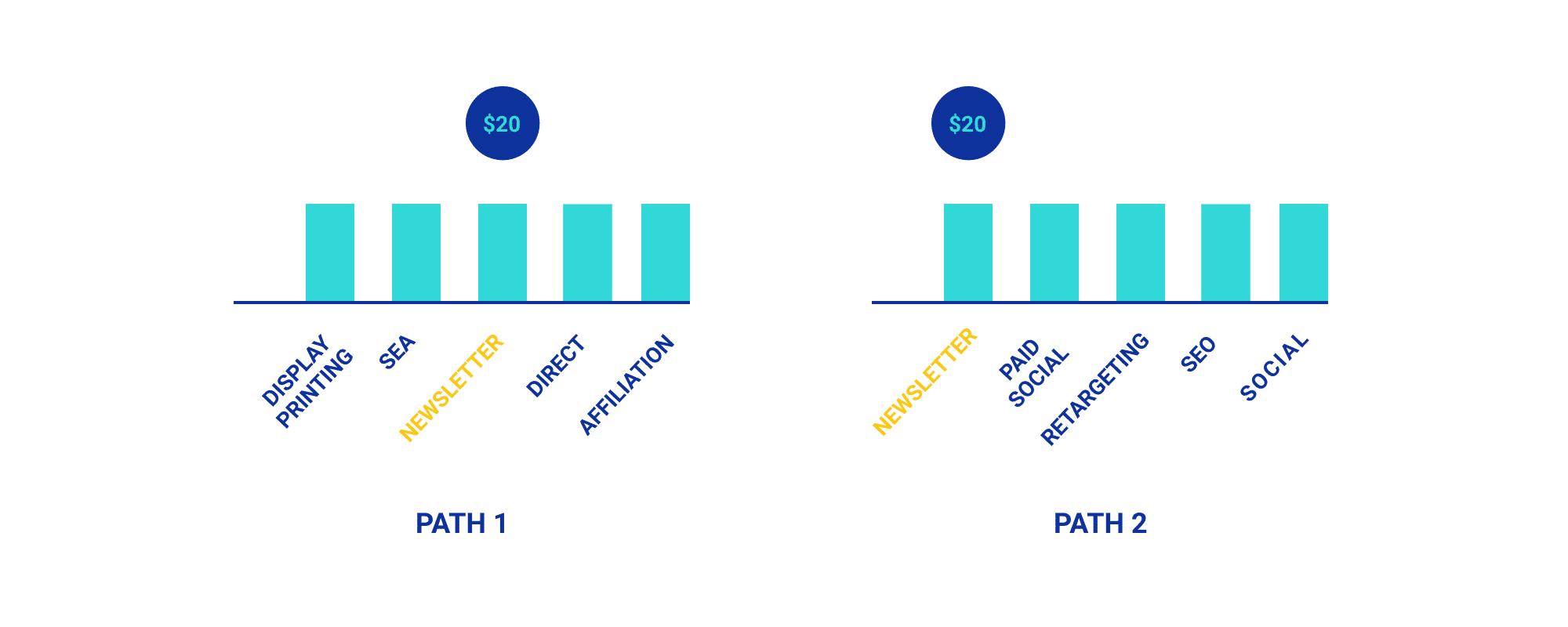 Algorithmic model: this model will use the characteristics of each touchpoint to calculate dynamically the contribution of each touchpoint!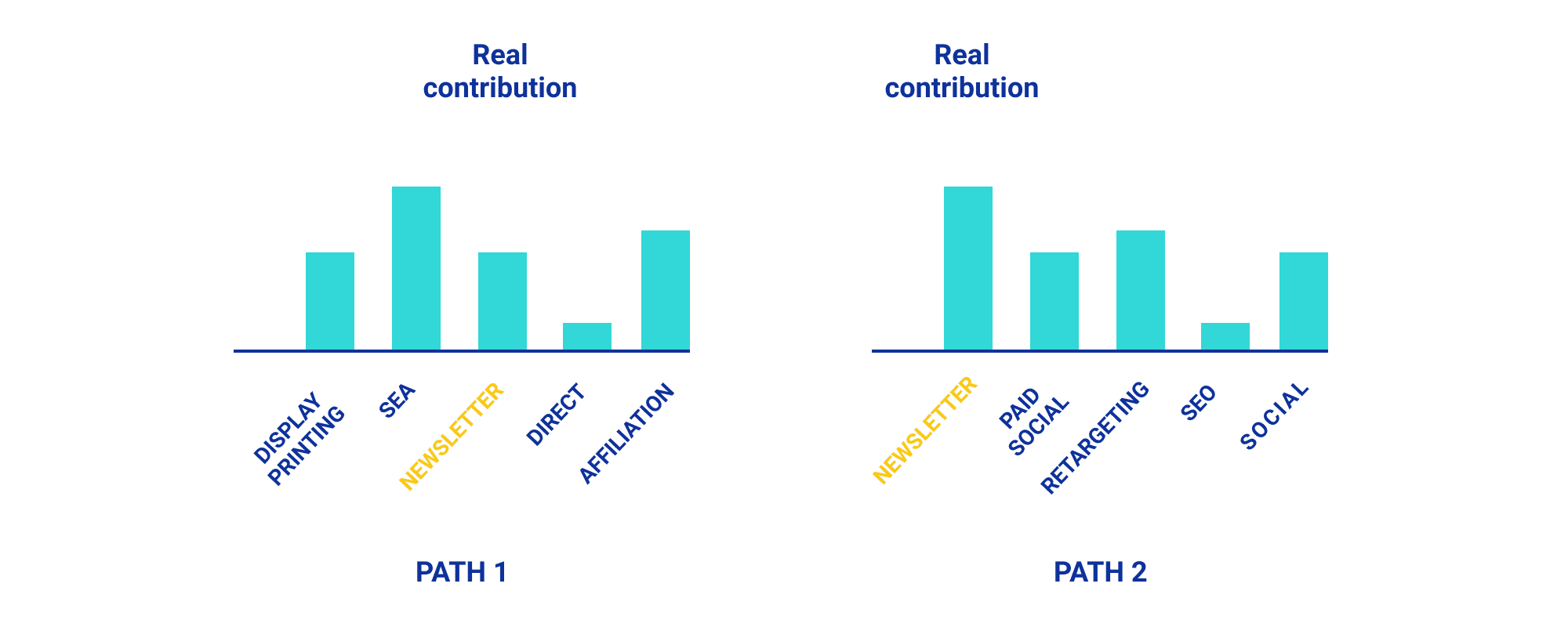 As a result, the algorithmic model calculates the real contribution of each touchpoint in the purchase as it takes into account all dimensions of the conversion paths irrespective of its complexity.
As an important side note, to accurately calculate attribution marketing requires complete paths. Hence, cross-device matching is a requirement so as to be able to follow a user across the various terminals he uses and offline touchpoints must be taken into account. Which requires taking into account offline media such as TV or radio. Lastly, some technical issues must be addressed, such as cookies' duration, that may impact data collection, so as to be able to recognize visitors every time they revisit a Website.