Wizaly's new release includes a budgeting tool based on machine learning

Forecasting is key to reach your digital growth target. However, this exercise is difficult as you can't simply plan each channel in isolation of each other: an increase of 10% of SEM traffic for example is likely to have an impact of other channels through trickle-down effects that can be very complex to assess precisely.
This is why we added a new turnkey feature in our new platform release: a new budget-planning tool based on machine-learning algorithms.
Simple, easy-to-use and efficient : discover our new budget-planning tool

« If I have a budget to allocate between my different online channels, what is the optimal mix? »
« If my SEO traffic increases by 10%, what will be the trickle-down effect other channels? »
« What level of ROI can I expect overall from my new strategy?»
To answer those three questions, Wizaly's planning tool brings concrete, smart and easy-to-use answers in a few clicks !


How does it work ?

Wizaly's tool is based on three steps to reach an investment (or dis-investment) plan that is client-specific :
1/ Building a machine-learning model for budgetary predictions based on significant budget variations and their measured impact
2/ Building a model of the cross-channel effects within the media mix based on the synergies between channels and sources
3/ Defining an optimal budget planning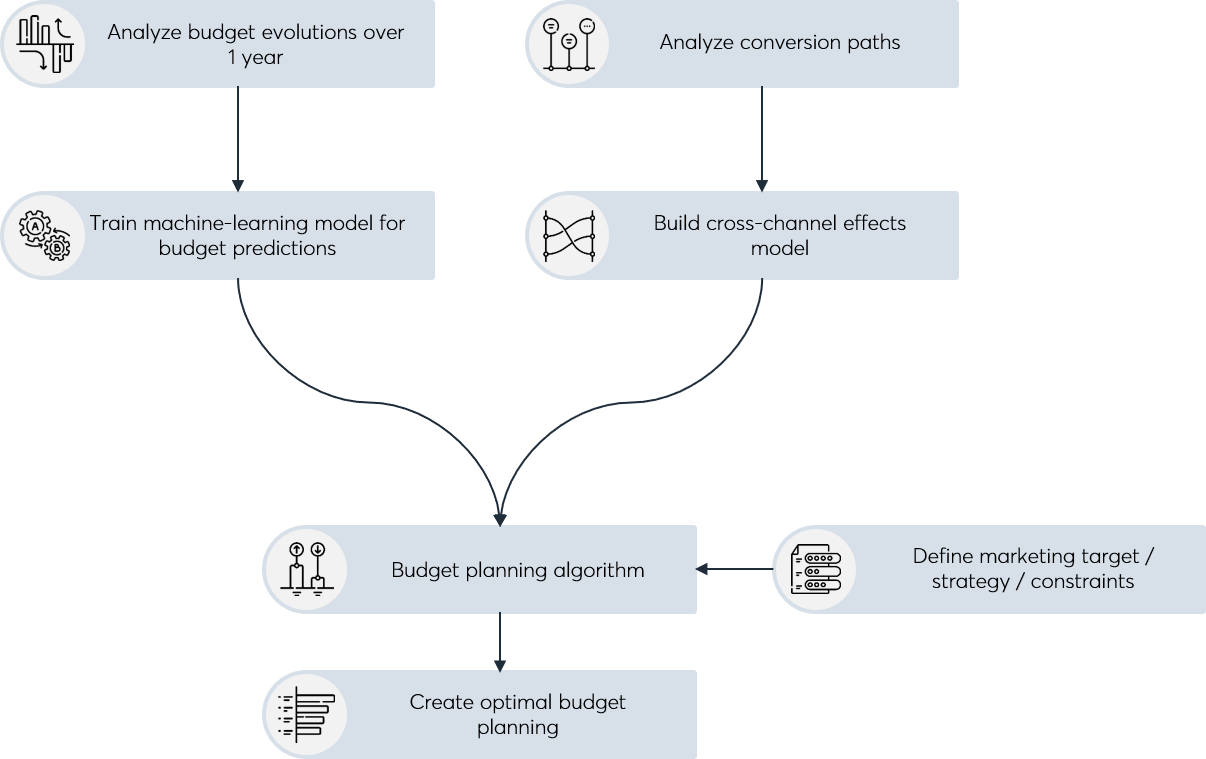 Icons : Freepik
Using our budget planning feature, you will obtain in a few seconds a precise and clear planning based on the performances of your media mix .
To get started, you need to pick a timeframe that you believe is relevant which the machine will use to calculate the cross-channel effects within the media mix.
You can also set some constraints in your budget allocation by forcing minima and maxima for each channel or source so as to best fit your needs.
Once this is done, the platform will take care of the rest !
Whether you want to increase your traffic, acquire new visitors, maximize your conversions, maximize your revenue or increase your ROI, Wizaly's platform will define the optimal budget allocation to address your goals.
Once the optimal plan is defined, you will gain understanding of your media mix as well as related parameters, such as visits, new visitors, conversions, revenue or ROI.



A new release for Wizaly's platform

Besides this powerful budget planning feature, Wizaly's new 1.9 release also includes many new features to help you manage your media mix:
The ability to launch on-demand automated analyses of your media mix based for specific time periods and tailored parameters that fit your needs


An improved library of cost-connectors to offer you the best possible view of the ROI within your media mix. You will thus have a full view of your marketing costs in one platform as well as the corresponding performance levels by channel, allowing you to make informed decisions


The addition of a product dimension in the platform, so as to view your digital performance by product category, brand, product or SKU and be able to adapt your marketing investments as a result


Performance optimization in both our algorithmic attribution model and the visibility measurement of your display advertisements
Want to know more ?
Those issues are central to your business ?
Would like to get a Wizaly demo ?
Get in touch with us to discover our platform and as a result, save time and money !