To achieve your digital growth objectives, you need to define as accurately as possible the distribution of your media budget across the different marketing channels.
After having defined and then deployed your digital strategy, you are now looking for ways to control its effectiveness. To do so, you analyze the performance and the achievement of your objectives on each channel, and you also analyze the synergies and cross-effects between the channels in your marketing mix.
This exercise can be particularly delicate and time-consuming, which is why Wizaly has just integrated for you directly on its attribution platform, a powerful budget planning tool based on artificial intelligence.
The Wizaly budget planning tool modelizes the impact of an evolution of your budgets on your marketing mix and conversions.
Here's how it works: Follow the guide !
Using the Wizaly budget planning tool allows you to obtain a clear and precise planning based on the performance of your media mix in just a few seconds.
All you have to do is to choose a reference period that you consider relevant and on which the platform will build its cross-effects model across the channels of your media mix.
If you wish, you can also define some constraints in the budget allocation by forcing a minimum or maximum budget per channel/source to best fit your expectations.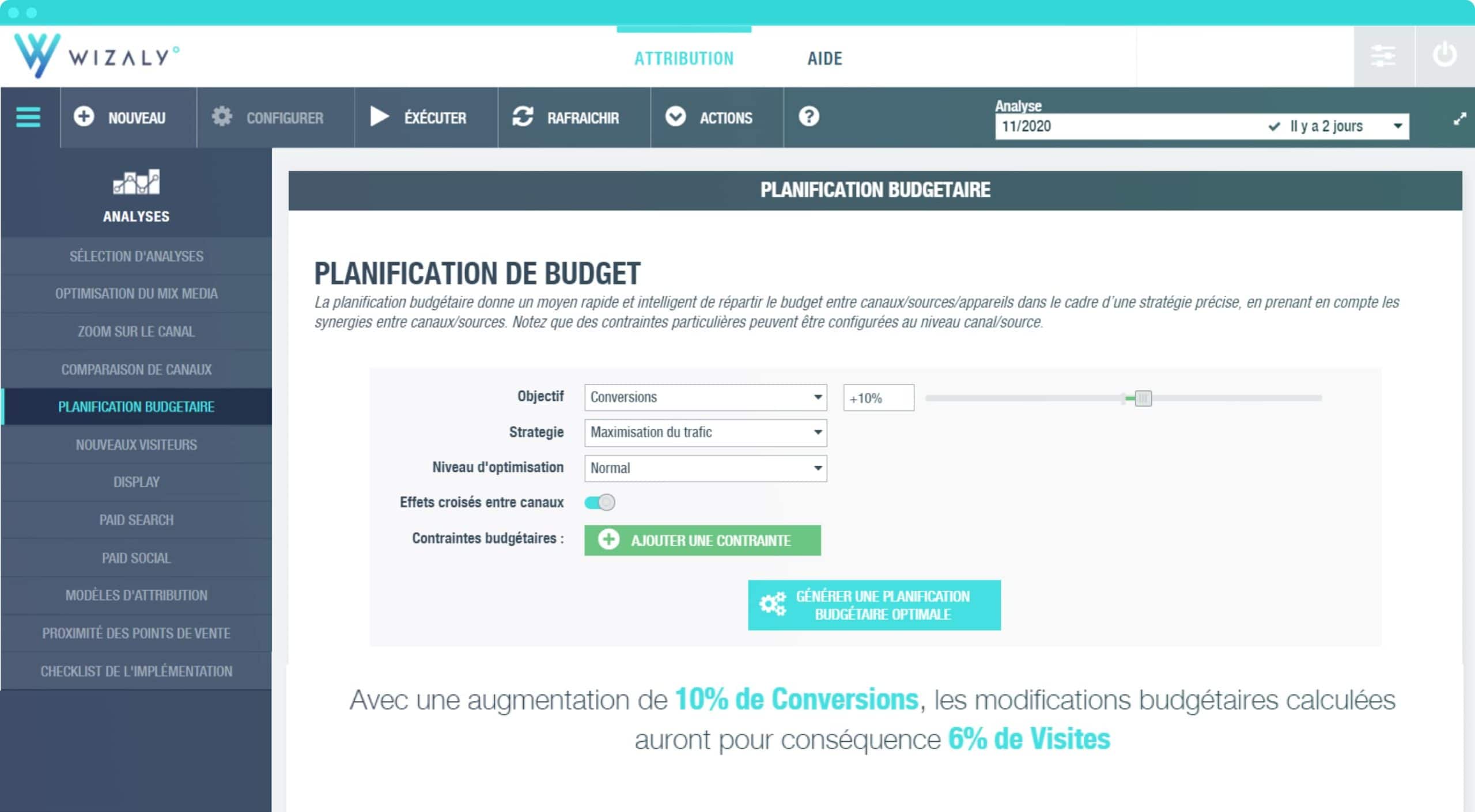 Then our platform takes care of the remaining job!
Whether you want to increase your traffic, acquire new visitors, maximize your conversions, maximize your revenues or increase your profitabilit, the Wizaly platform will guide you towards the optimal budget planning that will allow you to meet your digital ambitions.
Once your optimal schedule is generated, you get a complete view of the allocation of your media budget as well as the consequences associated with the new allocation in terms of visits, new visitors, conversions, revenue and ROAS.