Are you looking to unlock the full potential of your advertising efforts with the innovative Performance Max campaign? This article will guide you through everything you need to know about Google's latest feature. From automation to conversion optimization, we'll answer your performance max questions and explore how you can drive better results for your campaigns. Buckle up, as this article holds the keys to upgrading your advertising strategy!
What is a Performance Max Campaign?
Performance Max is a new campaign type launched by Google in 2022. It leverages machine learning to automate and distribute ad campaigns across all of Google's platforms. The aim is to enhance advertising strategy, ensuring ads reach the right audience at the right time.
The Performance Max campaign can optimize performance across all channels in Google Ads, including Search, Display, YouTube, Gmail, Maps, and Discover. By utilizing performance max, advertisers can drive more conversions, making this an exciting addition to the Google advertising channels.
The goal is to optimize the advertising strategy by delivering ads at the right time to the right audience.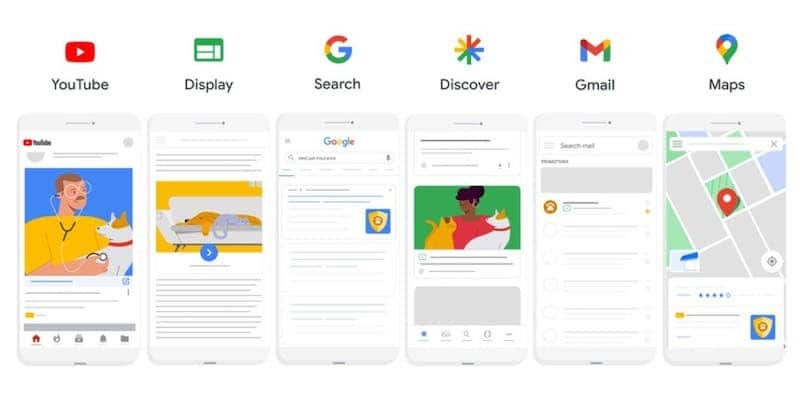 How Does Google Ads Automation Work with Performance Max?
Google Ads automation and Performance Max work hand in hand to automate advertising processes. Google's machine learning algorithms analyze audience signals and other factors to efficiently distribute ads across all Google platforms.
Automation in Performance Max campaigns allows performance-based ads to appear where they perform best. Google Ads' automation capabilities help to maximize ad rank, driving the highest-value conversion at the best marginal ROI at auction.
How Can You Optimize the Asset Group in Performance Max?
In a Performance Max campaign, advertisers utilize multiple asset groups to tailor ads for different segments. These asset groups contain various formats that can be optimized to target specific audiences.
Optimizing asset groups in Performance Max involves selecting the right combination of keywords, ad formats, and final URL expansion. Properly optimized asset groups enhance ad relevance and can significantly improve overall campaign performance.
How Do Audience Signals Influence Campaign Performance?
Audience signals are essential in tailoring a Performance Max campaign to target users likely to convert. By analyzing user behavior and interests, the campaign can serve ads that resonate with the audience.
Through audience signals, Performance Max uses machine learning to identify the best channels to drive performance with specific channels. This ensures the Performance Max campaign's ads may appear in the most impactful locations across all Google channels.
How Does Performance Max Ad Contribute to Conversion?
Performance Max ads are goal-based campaigns aiming to drive performance with conversions. They work by analyzing user behavior and determining the best way to serve ads for maximum impact.
By employing smart bidding and focusing on ROAS (Return on Ad Spend), Performance Max ads contribute to higher conversion rates. This conversion optimization helps to drive the best performance and increase ROI.
What Are the Results from Performance Max?
The results from Performance Max are promising and can significantly enhance advertising performance in real-time. Advertisers have witnessed better conversion rates, higher ad visibility, and more efficient use of their budgets.
The use of Performance Max supports better ad targeting and optimized ad serving. The automated nature of these campaigns contributes to more precise advertising, maximizing the overall campaign results.
How Can Existing Campaigns Benefit from Running Performance Max?
Existing campaigns can leverage Performance Max to find new avenues for growth. By integrating with existing Smart Shopping and local campaigns, advertisers can utilize Performance Max's automated features to enhance their existing strategies.
Running Performance Max alongside existing campaigns offers an opportunity for optimization, increasing visibility and driving more conversions.
What Makes Performance Max Different from Standard Shopping Campaigns?
Unlike standard shopping campaigns, Performance Max is an automated campaign type that leverages machine learning. It goes beyond the selected signals to optimize performance across all channels in Google Ads.
Performance Max's unique ability to analyze and respond to audience signals sets it apart from traditional campaigns. Its flexibility and automation lead to increased efficiency and effectiveness in advertising.
How to Exclude Certain URLs and Optimize Landing Pages?
Exclusion of specific URLs in a Performance Max campaign allows advertisers to control where ads appear. Landing page optimization, on the other hand, ensures that the final URL leads to a page that resonates with the ad's content.
By focusing on URL exclusion and landing page optimization, advertisers can fine-tune their campaigns. This focused approach helps to drive performance and ensures a coherent user experience.
Are Performance Max Questions Answered Regarding Automation and Bidding?
Performance Max offers extensive automation and smart bidding options. Advertisers can automate ad serving, bid management, and targeting to optimize campaign performance. It leverages Google Ads' capabilities to provide a streamlined, automated solution for managing complex campaigns.
Performance Max answers the questions of automation and bidding by offering a robust, intelligent solution that enhances campaign efficiency and maximizes results.
Performance Max: How to manage campaigns efficiently?
Tip #1 – Track Spending on Google Shopping
One major concern with Performance Max campaigns is the lack of transparency regarding how the campaign budget is spent on Google's inventory.
Here's a method to identify the portion of the budget spent on Google Shopping:
Open the "Card group" of your Performance Max campaign.
Sum all the costs (if you have multiple groups of elements, combine them).
Compare the total to your overall campaign cost.
Tip #2 – Track Spending on YouTube
Similarly, understanding how much of your budget is spent on YouTube is vital for managing a Performance Max campaign (as the goals for Shopping and YouTube are very different). To do this:
Add the "Views" and "Avg CPV" columns to your campaign view.
Calculate the spend by multiplying the "Views" by the "Avg CPV."
Compare this video expenditure to your overall campaign cost.
Bonus tip!
If no video asset is provided during the Performance Max campaign creation, Google can automatically generate an asset for YouTube distribution (based on the image assets from Shopping campaigns). The quality of these automatic videos may vary, so it is advisable to include a video when creating the campaign.

Tip #3 – Determine Your Performance Max Campaign's Position in the Conversion Funnel
To control a Performance Max campaign effectively, you should know whether it operates more at the top of the funnel (attracting new visitors) or at the bottom (final touchpoints before conversion).
Quality control can be conducted on both Google Ads and the Wizaly platform:
Google Ads:
On the campaign summary page, click on "Segment > Conversions > Days to conversion."
If most conversions occur during the day, the Performance Max campaign primarily targets the end of the funnel. If conversions occur outside regular hours, the campaign targets the top of the funnel.
Wizaly:
In the Report section, Click on "New" > Then "Configure" > Select columns "Path length," "Total occurrences," and "Converting occurrences" (Be sure to filter the Performance Max campaign(s)).
Wizaly allows further insights into path length (to see where touchpoints are placed) and the time before conversions (interpreted similarly to Google Ads).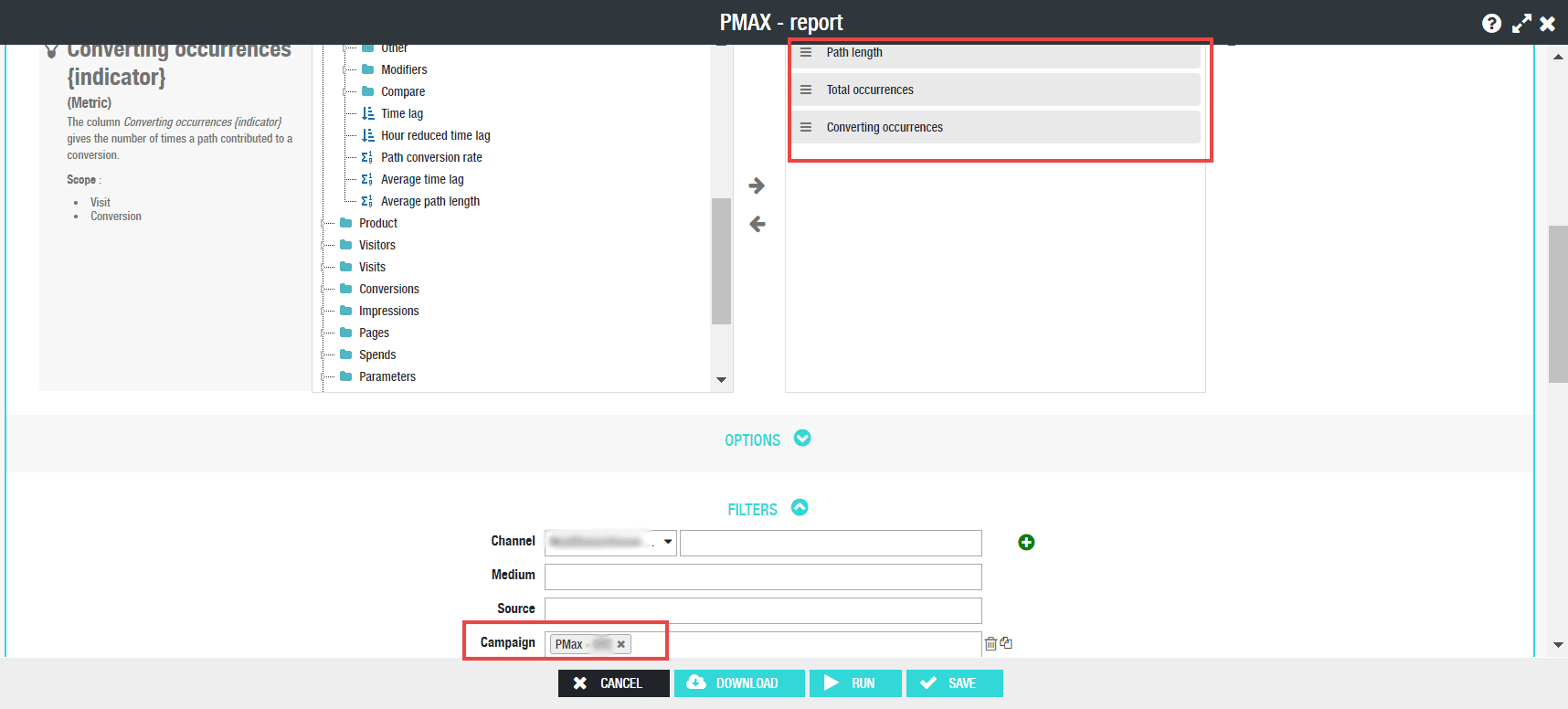 Tip #4 – Know the Landing Pages Used for Performance Max Campaigns
Understanding which landing pages are used by Performance Max campaigns helps you recognize which pages Google automatically emphasizes and how visitors interact with your content. Landing page analysis can be done on both Google Ads and the Wizaly platform.
Google Ads:
Create a table-type report.
Select "Campaign and landing page" in rows and the relevant KPIs in columns.
Then Filter -> Campaign Type -> Performance Max.
Wizaly:
In the Report section > Click on "New" > Then Configure > Select the columns "Campaign," "Landing page URL," and "Visits."
Filter by Performance Max campaign(s) in the report.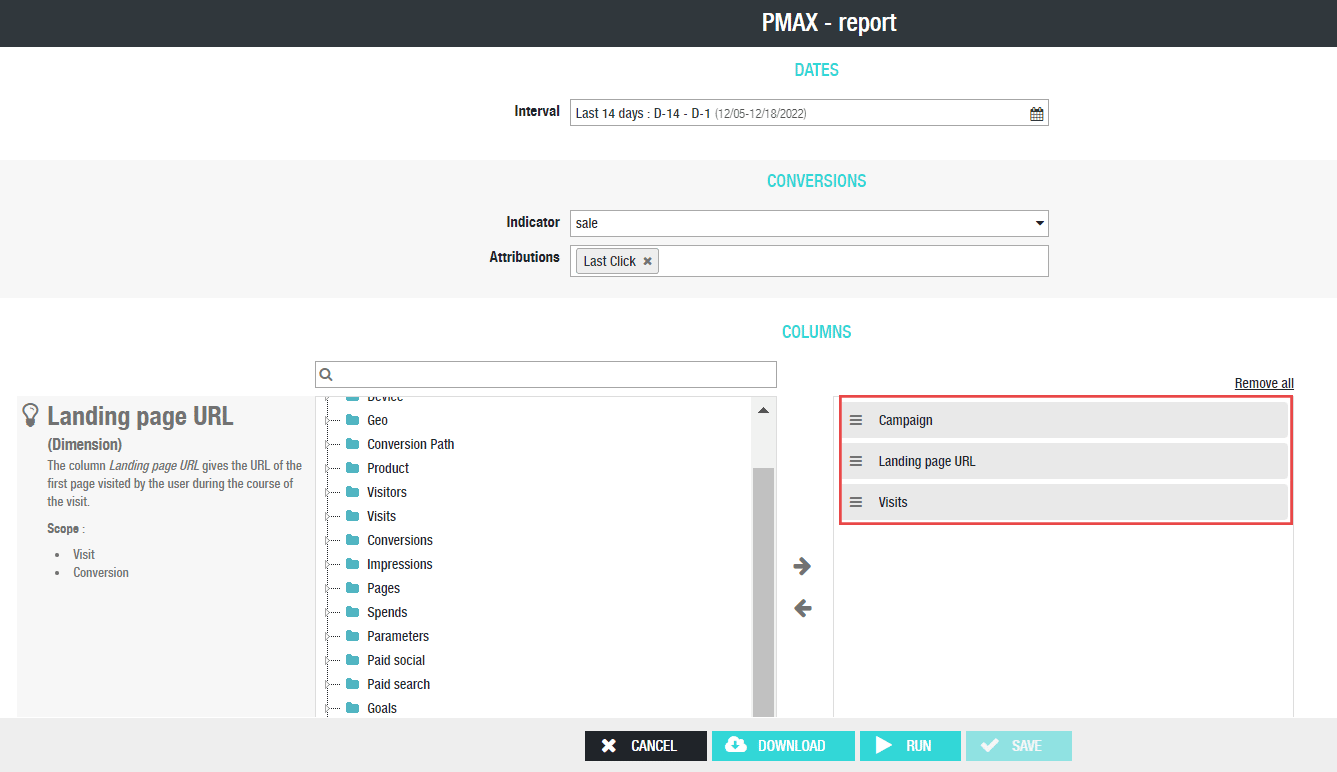 In summary, Performance Max Campaigns provide an innovative solution for modern advertisers looking to optimize their campaigns. Key takeaways to remember:
Performance Max is a new campaign type that leverages automation and machine learning.
Optimization opportunities abound through asset group management, audience signal analysis, and conversion optimization.
Integrating Performance Max with existing campaigns can lead to increased efficiency and conversions.
Exclusion and landing page optimization offer more control and alignment with ad objectives.
Performance Max answers the pressing questions around automation and bidding, providing a new, powerful tool for today's advertising landscape.